You are here
The highest paying jobs in Hong Kong for 2021
It was another difficult year for Hong Kong in 2020. Even as the social unrest reached a fever pitch, the city then had to deal with the onslaught of the COVID-19 pandemic. While Hong Kong has so far handled the public health crisis better than others around the world, the combined impact of these factors led to significant slowing in the employment market and the economy at large.
The first two quarters of 2020 saw Hong Kong's real Gross Domestic Product drop by 9%. Hiring activity, too, was at a low point in Hong Kong, with travel restrictions kicking in around the world and businesses electing a more conservative recruitment strategy across the board. With that said, by the third and fourth quarters, there were signs of recovery already in the works.
The Financial Services industry, for example, proved to be especially resilient throughout 2020 with a number of banks boasting near record results. Private equity and venture capital firms have been very active in Hong Kong with significant investment in Technology, Internet, Healthcare, Life Sciences and related industries. As a result, hiring demands in these areas have been robust, with hot competition for talent throughout the year.
Moreover, despite early setbacks and the ongoing challenge affecting Retail and Food & Beverage, there have been encouraging signs in the consumer sectors also. Part of this had to do with the Hong Kong government's stimulus package, which provided a 50% subsidy to monthly wages, capped at HK$18,000. In fact, the year's stimulus alone cost HK$137.5 billion, nearly 5% of Hong Kong's GDP.
Related: How to negotiate for a higher salary
Looking ahead, recovery seems to already be underway. Hong Kong's economic output recovered to just 3.5% below 2019's output — a positive outcome, all things considered. One reason behind the robust rebound was the policymakers' swift and decisive response to the COVID-19 shock. Hong Kong workers, too, were quick to adapt to work-from-home arrangements, thanks to the necessary technological infrastructure already in place. Though the immediate outlook remains foggy and a full rebound depends on factors outside of Hong Kong's control, optimism and confidence are returning.
We've also found companies and sectors that are still willing to offer competitive salary packages to the right candidates. In order to help you compare salaries and make the best career decision, here is a look at some of the highest paying jobs in Hong Kong for 2021.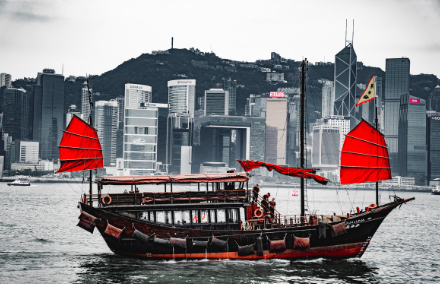 Top 10 highest paying jobs in Hong Kong for 2021
1. Head of Legal
The shape of Hong Kong's Legal sector remained strong and intact throughout 2020. This is part of the reason why the highest paying job in Hong Kong for 2021 comes from the Legal sector — specifically, the Head of Legal in Financial Services & Fintech industries. A Head of Legal in this sector can expect anywhere between HK$2.7 million to HK$3.5 million per annum. Legal – Sell Side professionals that work with multinationals, in particular, will be able to command the higher end of the salary spectrum.
2. Executive Director & Above
Like the Legal sector, Banking & Financial Services, too, proved resilient throughout 2020. In fact, as mentioned, a number of banks reported near-record results despite social unrest and the COVID-19 pandemic. These positive indicators have bolstered hiring activities within the sector as well. Executive Directors, especially those operating in Corporate Finance, Investment Banking and Sales & Trading across global markets, stand to earn the most in 2021 — anywhere between HK$3 million to HK$3.2 million per annum.
3. Chief Financial Officer
The COVID-19 pandemic had a huge impact on the Property & Construction sector. Aside from delays for various construction projects across Hong Kong, enthusiasm among property buyers cooled as well. These factors led to a significantly more conservative outlook for the sector, with businesses choosing a more conservative approach on all fronts — including their financials. This is one of the main reasons why, despite everything, a Chief Financial Officer, especially one from the Property & Construction, can expect to be the highest paying role within the sector. In 2021, this person will be taking in HK$2.7 million per annum.
4. Consultant
The ongoing global pandemic has put renewed focus not just on individual health, but public health as well. The Healthcare sector, in turn, saw a significant boom — and Consultants looking to enter the industry can expect to reap some rewards as well. A Consultant in Hong Kong's Industrial Manufacturing & Healthcare industry can expect to be paid upwards of HK$2.5 million per annum.
Related: 5 ways to lead with impact and speed in a recovering world
5. Chief Information Officer
As mentioned earlier, Banking and Financial Services emerged from 2020 relatively unscathed. Digital transformation within the sector continues to be an emphasis in Hong Kong, what with the upcoming introduction of virtual banks. As such, leadership roles in the Technology discipline, especially those in Financial Services, are in high demand. A Chief Information Officer can expect to be paid HK$2.4 million per annum in 2021 — the highest in the Technology sector.
6. Head of Human Resources
Human Resources is no longer viewed as an administrative, support function that doesn't generate revenue in a business. It has evolved to become an essential business partner to help identify problems in the corporation, develop and sustain employee engagement, retain talent, and plan for the workforce's future needs. And that is why HR Directors are in high demand and can expect to make up to HK$2 million per annum, especially those in Financial Services & Fintech.
7. Digital Banking Director
Hong Kong's online-only banks continue to make waves in the banking world. As of December 2020, there were already eight such banks in operation, with more than US$1 billion in deposits and attracted nearly 300,000 customers. This is part of the reason why, for 2021, a Digital Banking Director can expect to take in up to HK$1.6 million per annum.
8. Vice President Indirect Procurement
At its core, the supply chain is a convergence of different processes coming together to complete a task. These processes vary in complexity and diversity, depending on the specific sectors and organisation size. The Vice President of Indirect Procurement can earn upwards of HK$1.6 million. And as the supply chain management industry evolves to embrace digital automation more than ever, the Vice President of Indirect Procurement has to strategically navigate to be a revenue driver for the business, delivering tighter schedules, faster fulfilment, better efficiency and higher profits.
9. General Counsel
A General Counsel, especially one in legal services, can also expect to receive one of the highest remunerations in Hong Kong for 2021. According to our data, a General Counsel can expect upwards of HK$2.4 million per annum this year.
10. Chief Technology Officer
While a Chief Information Officer in the Banking & Financial Services industry does fetch a higher salary on average, a Chief Technology Officer in the Consumer & Retail industry is not far behind either. With Hong Kong's retail market having taken a beating in 2020, many businesses are reassessing their strategies and moving their operations online — and this is where someone like a CTO comes in. A CTO in Hong Kong can expect to be paid up to HK$1.6 million per annum in 2021.
To find out how your salary compares to other roles and industries in Hong Kong, go to our Salary Comparison Tool. Are you seeking a new role? Click here for these available job openings now. For more on hiring trends in the year ahead, download our comprehensive Talent Trends 2021 report here.

Disclaimer: Salaries can differ from company to company and depending on your skills, knowledge and experience.
Read more:
How to negotiate for a higher salary in 2021
How to explain employment gaps in your resume
5 clear signs a contracting career is for you